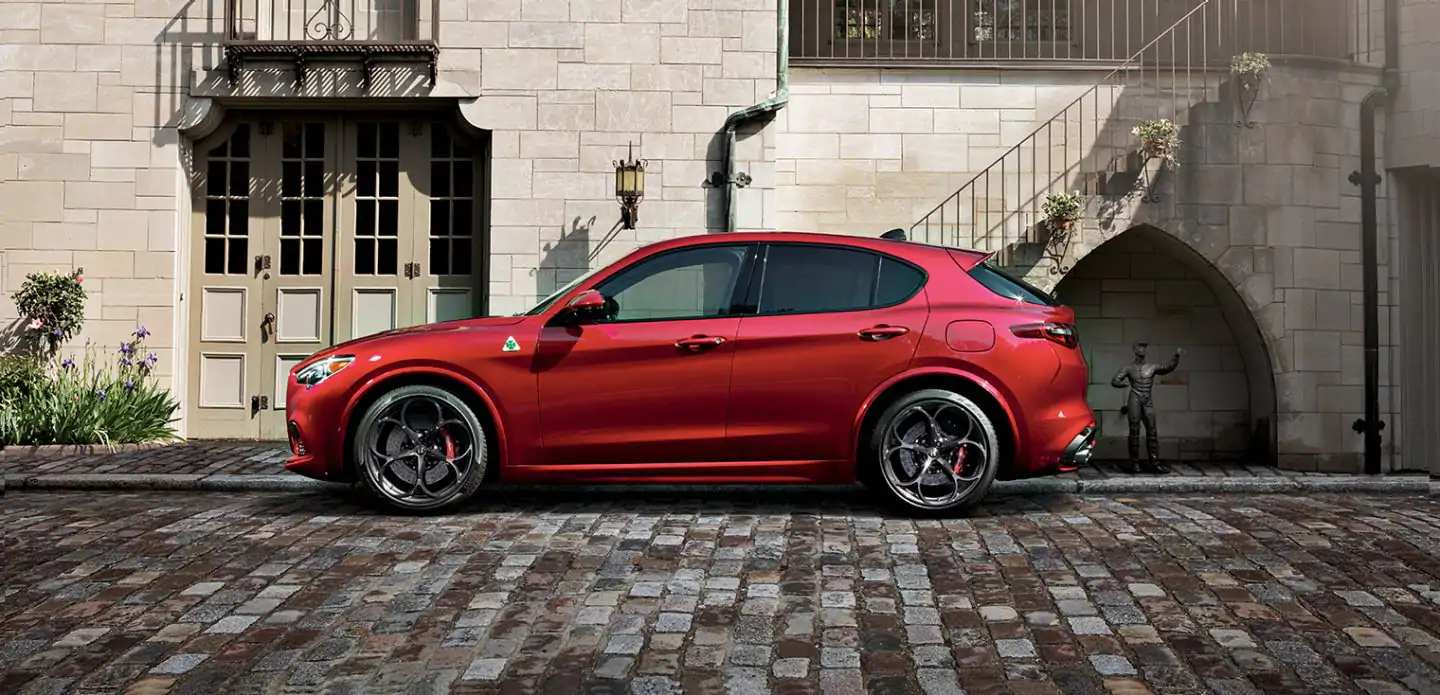 The knowledgeable folks at Road and Track have long been doling out the goods on the best (and worst) of car news for quite some time, and this past week they opened up one feature by stating that "people love to have on performance crossovers." It has been wildly entertaining to watch big engine after big engine be dumped into various SUV's this past year, transforming once family-friendly hauling vehicles into high-performance beasts ready for some serious track time. Our glorious 505-horsepower Alfa Romeo Stelvio Quadrifoglio recently took part in the Performance Car of the Year test and wowed everyone with it's dangerous and precise chops.
Earlier in the year, the Stelvio Quadrifoglio impressed editors big time, with its huge power supply and highly-ranked chassis. It's true that performance SUVs "put up numbers that can't be ignored," and does a great job of having a similar experience that driving a good sport sedan offers. Under the hood is the 505-hp, 443 lb-ft twin-turbo V6 from the Giulia Quadrifoglio, an engine that has the magic of Ferrari speckled abundantly within. The Road and Track staff were in full agreement that the Stelvio is "loud, raspy, and doesn't shy away from making itself known."
Since the engine is turbocharged, there are plenty of other delightful pops and crackles to be had, and the engine trots to 60 mph in a mere 3.3 seconds, quicker than its rear-drive-sedan relative. The Stelvio means absolute serious business with its active dampers, steering-wheel-sized carbon-ceramic brakes, and ultra-fast Race mode. During rain-soaked testing on a Tennessee track this summer, the Stelvio didn't act like an SUV. The steering is tight and fast, and the active dampers are always closely watching the motions of the auto's body. After you dial up Race or Dynamic mode, you can hit the damper button, which removes just the right amount of rebound and compression to make poor pavement seem that much more smooth.
During dry testing, other teams this year were impressed with how well the brakes work, giving the perfect amount of response at different variations of speed. Legroom is more than plentiful in the front and back, and all of us here on the lot at Jim Butler Alfa Romeo love the layout of the controls, with the drive mode selector on the center console, in front of the electronic shifter by the infotainment selector, and volume knob. During your next holiday-centered test drive, check out the amazing effects of the torque-vectoring differential: they send a motherload of power to the wheels, by means of better traction. This is an engine that behaves like a race car, and as soon as you hit the start button on the steering wheel, the fantastic depths of fast-lane fun begins!