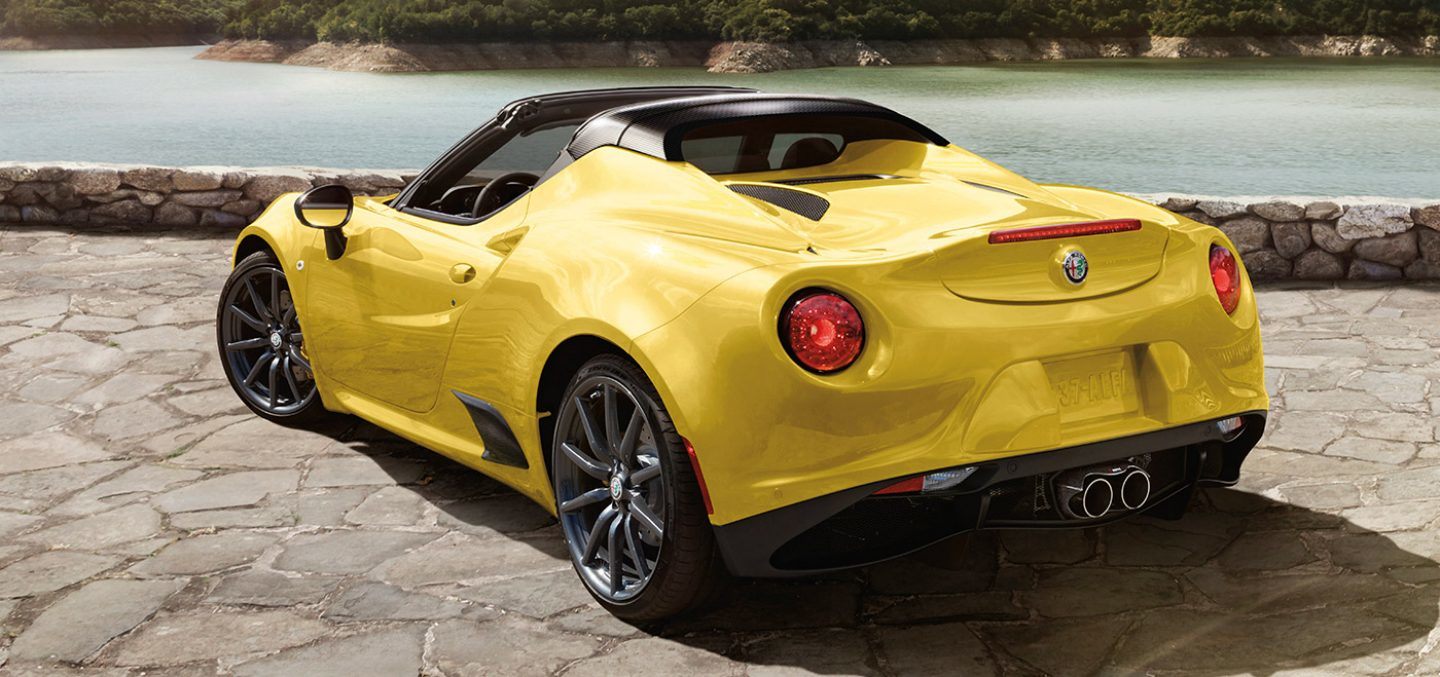 The Richmond Times-Dispatch ran a feature lately describing the fine points of our fleet member that is always exciting, daring, and memorizing: the 4C. The slick and engaging content provided by Wheelbase Media had some great photos of the 4C poised to tackle the challenges of a winding road, while appearing slightly menacing and full of futuristic prowess. Described as "light on its feet and uniquely designed," the coupe was praised for its incorporation of lightweight carbon fiber, and amazingly engineered non-power steering system.
The staple engine is a turbocharged 1.7-liter 4-cylinder engine producing 237 horsepower and 258 lb-ft of torque, with transmission duties handled by a six-speed automated manual featuring steering-column-mounted paddle shifters. The zero-to-sixty acceleration time is around 4.1 seconds, by means of an electronic system that produces quick starts with next-to-no wheel spin. Another system provides the ability to set the throttle, transmission, and brakes to natural, all-weather, or dynamic modes. Dynamic sharpens the accelerator response and reduces stability control: you can also choose Race mode, which deactivates traction and stability control, providing the means for starts on the much quicker side of things.
Ask us here at Jim Butler Alfa Romeo of St Louis about the optional race-tuned suspension: it provides special muffler-less exhaust, sport seats, carbon-fiber rear spoiler, and numerous other items to spice things up and bring out the race-ready attitude from under holiday wraps! Car And Driver lamented that "like a race car, it is a delight on the track," and praised the 4C for its "wildly unfiltered" feel and performance. This same well-known and expert-laden publication also claimed that our beloved namesake offers "two of the most thrilling sedans and SUVs on the market" via the offerings of our Giulia and Stelvio Quadrifoglio models.
Next year's 4C Spiders will come standard with a backup camera, and also feature rear park sensors, cruise control, and sport steering wheel as well as ultra-cool Italian flag mirrors. Jalopnik heralded the 4C as "spectacular in all ways," and their boss Patrick George claimed that the "laser-focused" feel was truly captivating. We recognize that many Ferrari comparisons have been generously thrown around the review articles and blogs this past year, but we also guarantee that the 4C is something extra special and sensational: as the snow begins to fall here in St Louis and many gifts are being wrapped, we invite you to the showroom. Share with us your dream of high-octane and track-commanding holiday cheer, and we'll set you up with a slice of the closest thing that exists to automotive heaven on Earth!