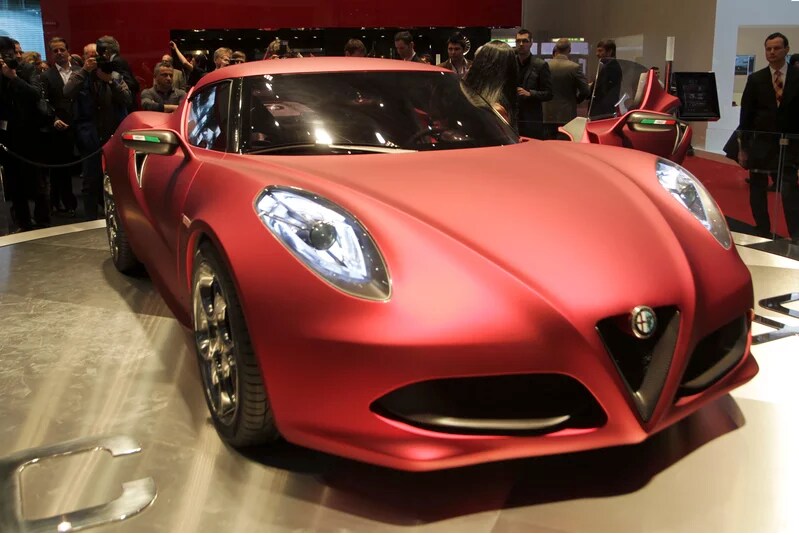 When the word "supercar" is spoken among anyone who is a die-hard auto enthusiast, many images come to mind, and none of them are soft-spoken or shy. Just last week, Alfa Romeo announced the development of a new supercar, that could go toe-to-blazing-toe with the likes of Porsche and Ferrari. This news was released during our brand's presentation outlining a five-year plan to Italian investors, as seven new models were proposed for completion before 2022. the 8C coupe is named affectionately after the 8C Competizione, produced between 2007 and 2010, and modeled after poignant and beautifully unique racers from the 1920s and 1930s.

Much like the Spider and 4C, the new 8C is slated to be built around a carbon fiber monocoque, and power will be derived from an electrical front axle, as well as twin-turbo engine. These important qualities as well as an all-wheel-drive electrical drive system will allow for an astonishing total of more than 700 horsepower, and a top speed has not yet been announced. Still, a fair estimate would be around three seconds for the 0 to 60 sprint, deeming it an immediately track-worthy titan. This car along with the rest of Alfa's new model lineup will be ready to offer Level 2 and Level 3 autonomy, with features such as partially automated steering, braking, and acceleration.

One of our knowledgeable representatives confirmed to Bloomberg over the past week that sports cars will make up 5% of Alfa's global sales by 2022, and that we heartily recognize the importance of staying true to our heavily sports car-influenced roots. The modern 8C was a Maserati-based, front-engine number that was an absolute head turner through-and-through, but it's safe to say that the upcoming 8C will be a much more serious and superbly-crafted contender. The previous model arrived during a time when the more exotic types of autos were stifled by economic times, minus a few extra-wealthy areas that enjoyed an abundance of opportunity to purchase lavish toys.

The very first straight-eight Alfa cars were introduced in 1924, and these were all examples of how quickly established in racing a well-engineered and powerful creation could be. Tazio Nuvolari took home the winning spot in both the 1931 and 1932 Traga Florio races, while behind the wheel of an 8C 2300 Spider. Another version of the 8C was the winner of the 24 Hours of Le Mans challenge in 1931, and there were several updated designs that followed this one, also possessing the ability to win big in racing events like the famed Mille Miglia.

The seasoned pros at Auto Week did a great job of describing performance aspects of the earlier 8C version back in 2007, stating that "it is through the midrange, which it dispatches with great purpose, where this Alfa comes alive. There's a notable step in power at 4,000 rpm, and from there it devours revs, ramping a straight-line performance to that commensurate with some of the world' most highly regarded supercars." We'll keep you up to date here on the blog as we hear more tidbits about this upcoming 8C, and we hope that every deserted two-lane road across the globe is ready for some quite serious and surefooted action!