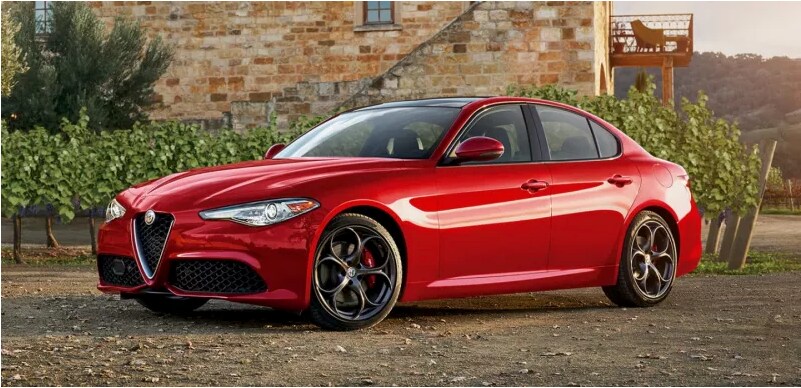 During this beautiful season in St Louis, we recognize just how many customers may be in the market for a sporty sedan. Choosing an Alfa is always going to offer up Italian flair and a stance that is beyond ordinary, and for these reasons, the price tag has always known to be substantial. There is no doubt as to whether or not the Giulia is a joy to drive: Car and Driver hailed it for its "athletic chassis, crooning turbocharged 4-cylinder engine, and adaptive suspension, as well as quick steering. This is a carefully-crafted slice of automotive perfection, that easily reserves the right to tout a badge of "Real deal" namesake and stance.

However, the base 2017 Giulia started in at just under $40,000, and you can visit us right here at Jim Butler Alfa Romeo of St Louis, to see if there are any low-mileage listings that would strike your interest, and poise you to the ranks of Giulia ownership. Also listed on Car and Driver's "Ten Best Cars list for 2018", it has been rabidly followed and appreciated for its hot-blooded styling, designer interior, and driving dynamics that really solidify the all-important connection with the driver and every turn in the road. You can enjoy Apple CarPlay and Android Auto as a standard feature on all Giulia models, and front parking sensors are bundled together with blind-spot monitoring, auto-dimming exterior mirrors, and a new Cargo Convenience Package.
This package adds a few features that are right on point for the busy family or young professional on the go: grocery-bag hooks, a cargo net, and tie-down hooks inside the trunk help with anything from your last Ebay purchase, to a routine grocery haul. The fantastic sounds of Harman/Kardon stereo are also available on the Giulia Sport, giving you the ability to enjoy anything from Beethoven to abundant thumps of Bass during the commute. Digital Trends praised the Giulia for "class-leading handling", as well as the best-designed interior of its class.
We are fully aware of some off-the-wall competition for the 2018 year, and that Kia has been eagerly spreading the word about the performance and speed of its Stinger GT. There are plenty of detailed reasons why Bloomberg stated about the Giulia: "It's a chiseled machine, with dynamic performance from behind the wheel and comfortable, thoughtful interior technology and appointments". Make sure you take a close look at what the Ti Performance Package can do for you: the addition of active suspension and mechanical slip-limited differential will see to it that you are given the attribute of acceleration with seamless and proud precision!