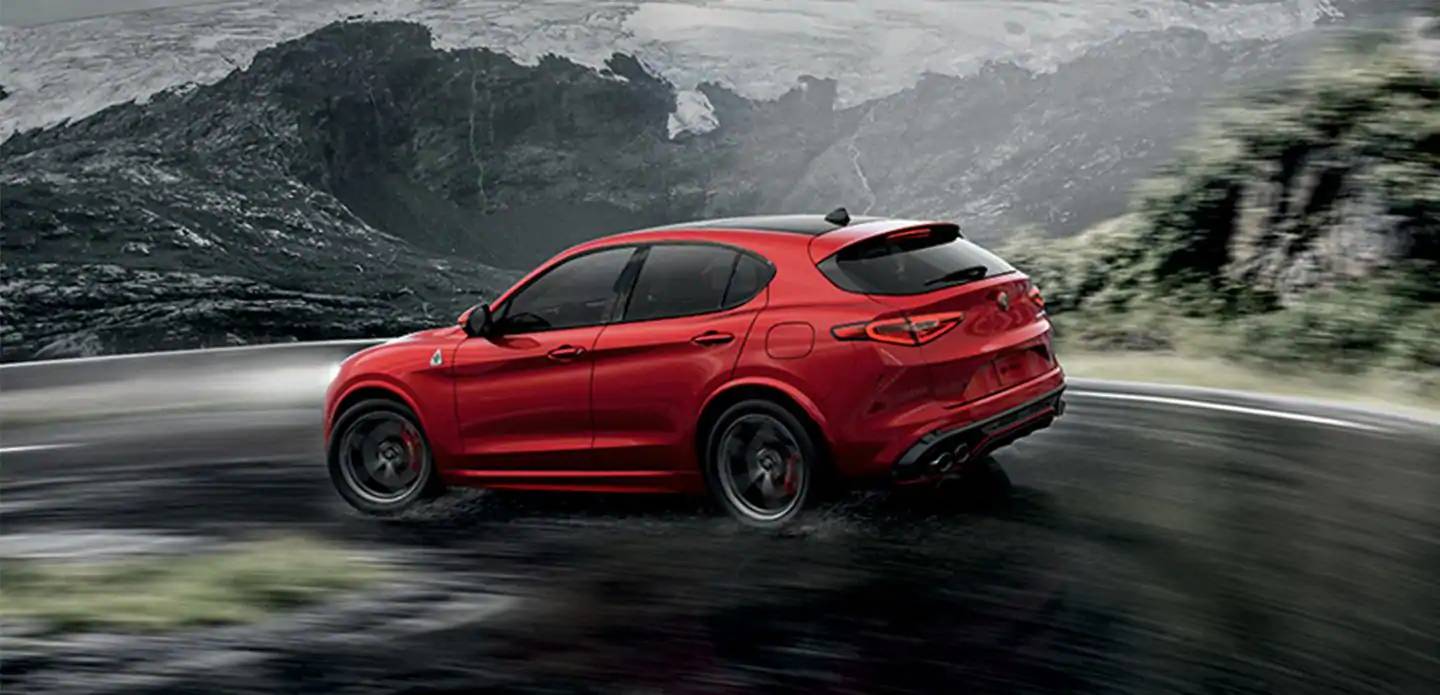 Putting the "Sport" into SUV can be quite a task at hand these days, and the folks on staff at the Whatcar.com blog ran a feature last week pitting our prized Alfa Romeo Stelvio Quadrifoglio up against the Mercedes-AMG GLC 63 S. Right off the bat, they admitted that there's definitely an awful lot to like about the GLC, with the "throbbing V8" as a power source and a very classy interior. The final verdict after thorough testing was that the harder it is pushed, it begins to feel much less composed overall.
The Stelvio proved to be just the opposite, with a more playful vibe, and handling that lets you attack any type of winding road with confidence, and performance specs that are bound to put a big smile on your face. After the dust had completely settled, it was decided that the Stelvio is more than just a thrilling car to drive, and is spacious inside while being better overall suited for family life. The Stelvio comes to the competitive table with a V6 instead of the Mercedes' V8, and boasts a top speed of 176 mph. Even with the extra cylinders under the hood, the Mercedes surprisingly has a top speed of two mph less.
In their full-length review of the Stelvio Quadrifoglio you can check out here, Whatcar.com claims that other entries to the genre such as the Porsche Macan Turbo, same Mercedes AMG GLC 63, and Audio SQ5 don't quite deliver the same level of thrills in the driving department as a sports car due to their weight and height. It is outlined with great enthusiasm here just how the engineers took a specific route when making this fantastic new SUV based on a well-sorted sports car, and they immediately deemed the finished product "mouth-watering." Always impressive is the fact that the Stelvio was tuned by Roberto Fedeli himself, who put the finishing touches on Ferrari's 599, F12, and 458 Speciale.
A record-setting Nurburgring lap time of 7 min 51sec is another trait of the Stelvio that is bound to turn many heads, but numbers like this don't always clue you into how a car performs when it is up against real-world elements. During the road test administered by Whatcar.com, the steering was rated as "sharp and precise" without seeming jerky and nervous, and every single upshift was there to elicit a delicious crackle from the exhaust pipes. Last but not least, all Alfa Romeos come with a three-year warranty that has no mileage limit, assuring you the best in parts and protection for a plush SUV that is in all ways "as good as they get."