Anthony Karr was hot on the trail of fresh Alfa Romeo story this past week when he reported for Motor1.com regarding the future of the Giulia sedan. This past March there was an exciting Racing Edition offered, followed up by the Nring Edition a month later. Kostur Alexandr is a Ukranian designer who offered up some renderings that propose a restrained and more solid style, and one that ditches the current round shapes for lines that are sharper at first glance.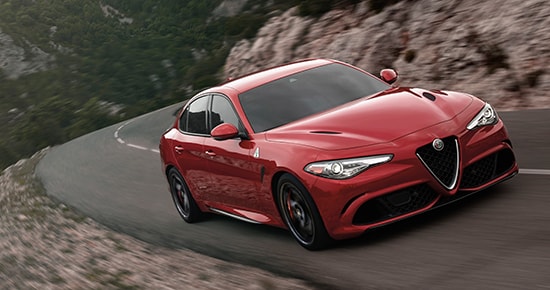 We agree with Anthony that these renderings do send some very strong Alfa Romeo 166 vibes, with an overall smaller shadow that is especially visible at the rear fascia and side profile. Even with the shape of the taillights being distinctly different, there is a strong resemblance between the 166 and these renderings. The Motor1.com staff lament here that they miss the current lack of wagon modification, as the Alfa namesake for sure had some of the best-looking long-roof cars on the market. These renderings from 3 years ago of an imagined Giulia Sportswagon were being kicked around in the illustrious imaginations of many in Europe, where the wagon body style accounts for nearly half of all sales.
The existence of the Giulia itself is one of the autos we pride ourselves most on: it has an athletic chassis, grunty turbocharged 4-cylinder engine, responsive steering, and athletic chassis. For 2019, the Nero Edizione package which is available on all Giulia models adds to the mix darkened exterior trim, headlamp bezels, exhaust tips, and wheels. The Ti Sport model sees the availability of the Carbon Fiber package, which provides exterior styling bits rendered in carbon fiber and a dressed-up interior with a leather-wrapped dashboard and carbon-fiber trim.
The Car and Driver staff favor the Giulia Ti for trim level, as well as the addition of the Ti Performance package. This provides a driver-selectable 3-setting dial, adaptive suspension, and gorgeous aluminum shift paddles mounted on the steering column with a mechanical limited-slip differential as well. Always recognized as the driving enthusiast's sports sedan, we pride ourselves on manufacturing a car with some of the most well-controlled body roll in existence, while offering a quick and aggressive drive. When you come to visit us here at Jim Butler Alfa Romeo of St Louis, we will lay out our plans for the future for you and show you what models are in the making, while also letting you swoon over the current available holiday wish list arsenal!