The Goodwood Test Renders Giulia Quadrifoglio as "Brilliant, Stylish, and Performance Capable"
Wednesday, 31 July, 2019 | Dustin Willbrand
Each week the team of senior road testers on duty at Goodwood Road and Racing pick out a new premium performance car and explore in depth just what all the buzz is about. This past week they went all in and chose our favored Alfa Romeo Giulia, and immediately proclaimed it was great for "those who want something a little different from the usual 3 Series/A4/C-Class", while stating up front that the Quadrifoglio badge takes the car into an entirely different realm. The Giulia namesake itself has been around since the Sixties and Seventies, when the type 105 and the Sprint Spectacle took their respective flights of honor.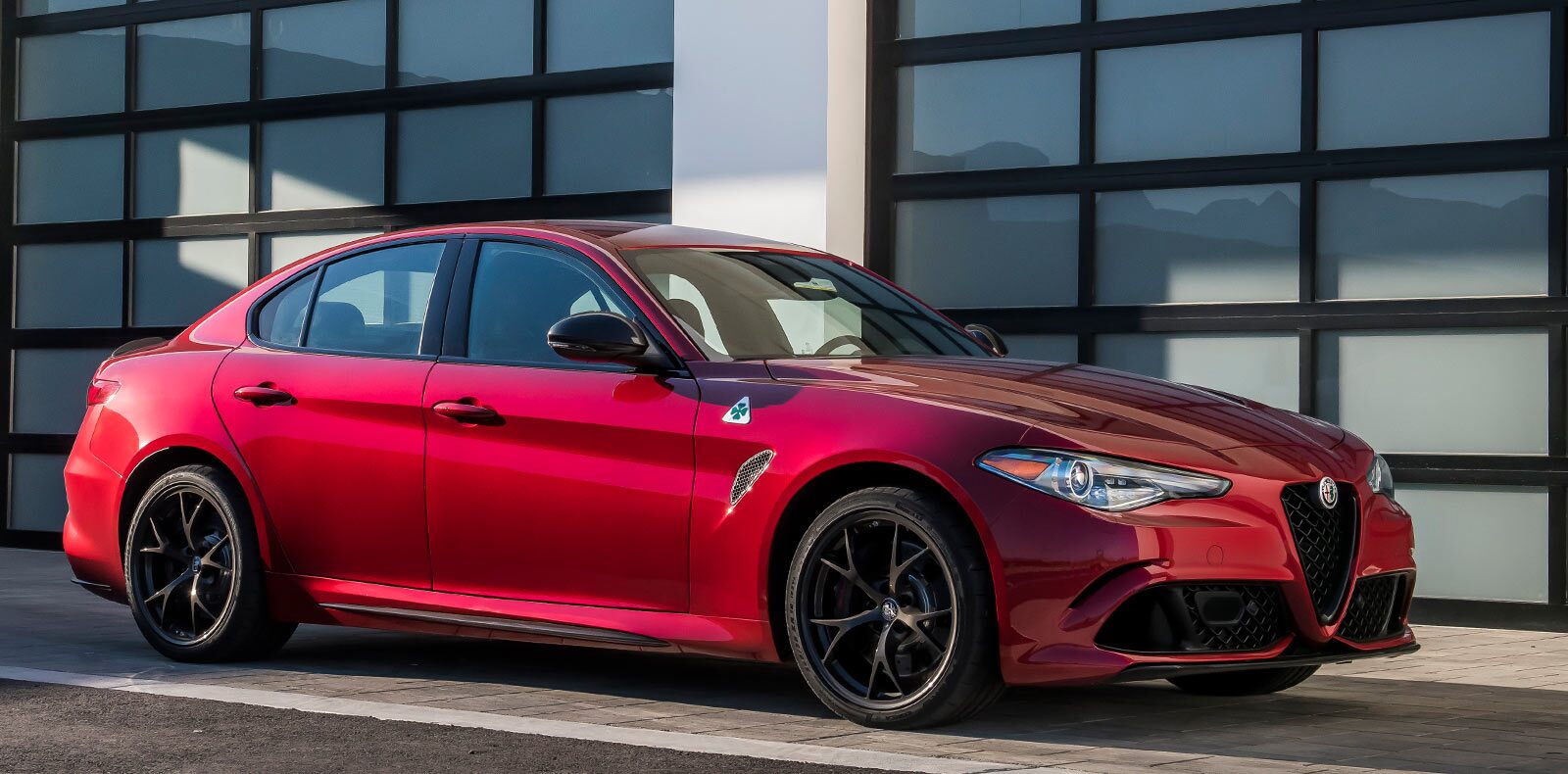 Writer Erin Baker reflected right away that the carbon spoilers, sills, and lips plus 19-inch dark five-hole wheels were a great start at setting the tone for a ride that easily champions anything the standard Detroit manufacturers have as offerings currently on deck. What the team appreciated most from the many key performance features onboard was the DNA drive mode selector, which now has added Race Mode, active torque vectoring, and synaptic dynamic control suspension.

The testing crew claimed that the Ferrari-derived engine is by far in a league of its own and that the 2.9-liter twin-turbo V-6 is every bit as amazing as one would expect. It drums up 510 horsepower and 444 lb-ft of torque, but the stats don't do justice in the least regarding how game-changing and glorious the engine is. These well-seasoned journalists here agreed that once you get the revs up to around 4,000 RPM, you will feel a glorious howl, and it is a blur of raw excitement, emotion, and purely-piped out symphony of sound. 0-60 mph takes place in just around 3.8 seconds and top speed is 191 mph.

The Q has the feeling and sounds of being raw enough during heavy acceleration for those who love track-focused performance and thrills, but the way the suspension is set up also means that it is an ideal daily driver. We agree in full to Heidi's sentiment that "you'd have to be cold-blooded to not appreciate the serious customs and beliefs from which this car was bred". Come to visit us for a test drive and check out everything that is offered as standard: heated and power-adjustable leather-trimmed front seats, adaptive dampers and a torque-vectoring rear differential, blind-spot monitoring and rear cross-traffic alert, and an 8.8-inch infotainment screen with navigation. Here at Jim Butler Alfa Romeo of St Louis , complimentary maintenance is covered for 1 year or 10,000 miles just for starters, and we have your best interest as a new Alfa owner as our #1 priority.
Share

Twitter